Tobias Bernard

is an interaction designer based in Berlin.
I design public interest software, mostly as part of the GNOME Project.
I work for Purism, maker of computers that respect your human rights. My current focus is the OS and apps for the Librem 5 phone.
You can find me on Mastodon and Twitter, read my blog, or send me email.
Recent Work
Most of what I do these days is part of GNOME, a project building an ethical OS accessible to everyone. All of this work is collaborative, but these are some recent initiatives I've been a driving force for.
GNOME 40 — A major refresh to the GNOME system interface. It includes a cleaner spatial model, more approachable workspaces, and smooth touchpad gestures.
Release Website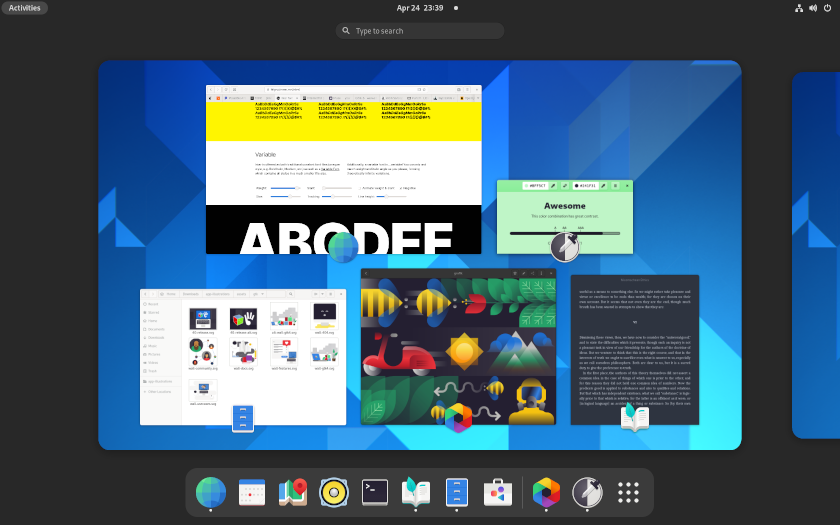 Adaptive Apps — Native apps that work on your desktop, your phone, and everything in between. This is an ongoing long-term effort, but a large number of system and third party GNOME apps have already been ported to this new paradigm.
My GUADEC 2019 talk gives an overview of the initiative.
GUADEC 2019 Talk
Apps
In addition to my work on the GNOME core system and apps, I've also designed a number of third party apps.
Writing & Speaking
I occasionally write articles and speak at conferences, usually about design, public interest technology, or some combination of the two. These are some of my favorites from the last few years.
Other Projects
Though my focus is interaction design I also do branding, web development, and illustration (among other things) from time to time.
Impossible Cities — A collaborative short story and illustration project, inspired by Calvino's Invisible Cities.
Project Website